Razer™ ist der weltweit führende Anbieter von professionellen Gaming- und Lifestyleprodukten. 1998 wurde das Unternehmen in Carlsbad, Kalifornien gegründet. Heute hat Razer weltweit neun Niederlassungen. Razer-Produkte werden von den anspruchsvollsten Gamern der Welt benutzt, um den entscheidenden Wettbewerbsvorteil in hochdotierten Turnieren zu erhalten. Wir leben unser Motto: For Gamers. By Gamers.

1.Platz LOL: 5x Goliathus Speed League of Legions Edition – Soft Gaming Mouse Mat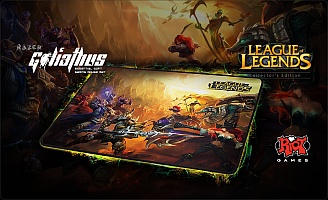 Slick taut weave for SPEED gameplay: The weave on the Razer Goliathus is pulled taut to create a slick and seamless surface so your gaming mouse glides quickly with zero hindrance. The weave also provides a nice, comfortable feel under your hand minimizing fatigue over extended periods of play.
Optimized for All Sensitivity Settings and Sensors: Low sense, high sense, laser, optical or dual sensor system – whatever your sensitivity setting or preferred gaming mouse, the Razer Goliathus offers total tracking responsiveness for consistently reliable in-game control.